How To Support Old Christian Radio
Old Christian Radio Mission Statement
Thank you for visiting my website and listening to Old Christian Radio. .

I've created a unique kind of Christian radio station on the internet...
Old Christian Radio is a station that plays great conservative Christian music with NO "Christian Rock".
The main mission for this station's existence is to be a blessing to the Christian community by playing Godly Christian music that doesn't sound like the devil's music.
The musical emphasis on this station is of a Godly spiritual nature.
Music that appeals mainly to "the flesh" is NOT played here)
This station's music format is: Sacred/Traditional Christian with NO outside programming.
My other website http://www.oldchristianmusic.com sells most of the music that is played on Old Christian Radio.
Old Christian Radio is commercial free and listener supported.
(Since OCR is not a 501(c)3, gifts are NOT tax deductible as charitable contributions.)
A couple ways you can help Old Christian Radio
1. Please tell your friends about Old Christian Radio
2. Please put me somewhere on your prayer list
a. God's protection of me, my health, my property, the station itself, and etc.
b. God's wisdom, knowledge, and help in making the right decisions.
c. Continued growth and blessing in my own Christian life.
d. Continued growth and blessing of Old Christian Radio.
e. God's blessing and provision to pay all the bills.
f. For OCR to be a blessing and a help in the lives of the people who listen.
3. Please donate to Old Christian Radio
Listeners please note:
Old Christian is no longer using PayPal to accept new donations.
I can't take credit/debit cards at this time for donations.
I am asking listeners to donate to Old Christian Radio by:
1. Mail in a check or money order (US Dollars.) -- OR --
2. Go electronic by using the bill pay feature of your bank's website.
(Depending on the bank, you can set it up as a recurring payment.)
The mailing address is:
Michael McFadden
Old Christian Radio
2004 Cottie Lane
Arlington, TX 76010
---
A Brief history on Old Christian Radio (OCR) -- Updated and revised May 03, 2020.
Old Christian Radio began as an experimental station on March 7, 2000 as a "free station" on the Live365.com platform. While on Live365, Old Christian Radio emerged as one of their top 15 stations with over 50,000 monthly listeners.
As a Live365 station, I was very limited in what I was allowed to do with OCR.
Things like... I can't get revenue from ads nor donations for OCR.. I can only earn money from my online music store that sold CDs of music played on OCR. . On the station site, I can only launch the station from their proprietary Live365 player. (They can serve ads too.)
Everything changed when Live 365 went bankrupt and shut down on February 1, 2015. -- This was partly due to the changes in how SoundExchange web radio royalties were calculated (per listener per song vs. % of revenue.). (FYI: Terrestrial stations pay strictly on % of revenue and station audience size to ASCAP, BMI, and SESAC. -- 501(c)3 terrestrial stations pay next to nothing in music royalties.)
After Live365 died, I gained complete ownership and control of Old Christian Radio. -- I got my own licensing to run as a "Stand Alone" station. Since OCR is NOT a 501(c)3 non-profit station, I had to license as a commercial station and pay commercial rates. -- In short, I'm not limited by the rules that non-commercial stations have to follow to keep their "non-commercial" tax exempt status.
OCR was officially re-launched on March 1, 2017 on the Radio.co platform as a "stand alone" station (Now broadcasting in HD audio.).
I had to start all over again and rebuild my audience from "ground zero," hoping that my old loyal listeners would find me again. (as of April 15, 2020, the audience numbers are about 16,000 monthly listeners and growing.)
OCR now has apps available for Apple and android phones. OCR is on ALEXA too. OCR is becoming increasingly available on a growing list of other platforms. -- None of this would have been possible if OCR was still on Live365.
Please allow me to introduce myself... (My family picture is at the bottom of this web page.)
My name is Michael McFadden. I live in Arlington, Texas. I'm an Independent Baptist. I've been saved since March 1991. I am married and I have two children. I am member of Trinity Baptist Church of Arlington, TX (This church is an Independent conservative Baptist Church which uses only the KJV 1611 Bible.)
In March 2010, I met my wife online at www.christianfilipina.com
I narrowed my search to ONLY Baptist ladies and went from there. I ended up finding the lady that God wanted me to marry.
After a long while of communicating, I went to the Philippines and married her in May 2011. (She is also a Baptist.)
When I was young, I had a long standing interest in radio. Radio was a fascinating field to me. I dreamed that I'd be on radio someday broadcasting good Christian music. I've never liked what is called today's (worldly) "Christian music" and "Christian living". Because of what I've seen in many churches, in my younger years, I have resisted many opportunities to get saved. When I became an adult; I believed on the Lord Jesus Christ and got saved from my sins. I told God that I don't want any part of that phony, worldly Christianity being practiced today. I decided to become a "conservative Christian" (as in the way that Jesus would want me to live) in how I live my life and in the music I listen to.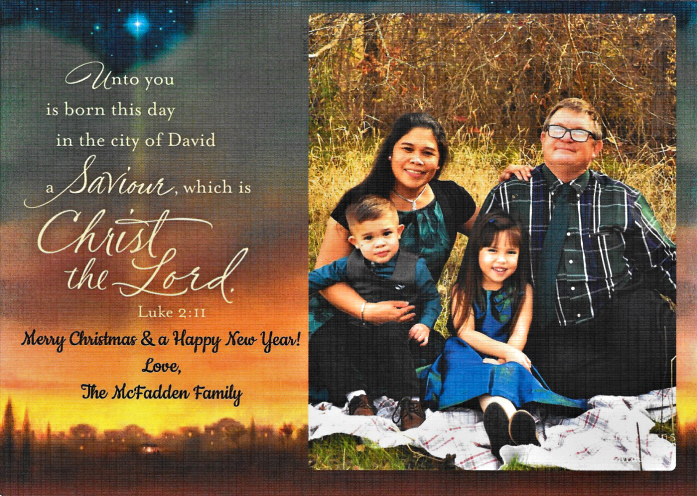 Last update
d, August 20, 2020

RETURN TO OLD CHRISTIAN RADIO HOME PAGE
---